Here you'll find an archive of my previous product, the Card Caddy. It's no longer available for retail sale, but contact me if you are interested in licensing the product.
Have a quick sit down in the game room with Chris Nichols, inventor of the Card Caddy. Chris talks about what makes the Card Caddy unique and also the various advantages and setups for multiple games using the Card Caddy.
How We Got Started

My name is Chris Nichols the inventor of the Card Caddy.
When my step-son was around 5 years old, he was obsessed with Uno. I grew up playing card games of all sorts with my grandmother and wanted to foster that same love of cards with him. We carried around a couple of decks of cards, bound with rubber bands, stuffed back into the box, or just scattered in the bottom of a my wife's purse. When it came time to play – often somewhere without a level, solid surface for the draw and discard piles – the stacks of cards fell over, blew away or slid down into the crevice of the car seat.
For Christmas that year, I made the original version of the Card Caddy in my workshop out of scrap wood. It was bulky and clunky, but it was a big hit and solved my frustrations. After a couple of iterations, I've put together an improved version and would like to the share the idea with card lovers everywhere.
Whether you're a harried parent who wants a mobile entertainment option other than "a device", a hardcore Trading Card Gamer who has a lot invested in your deck, or just someone who likes to have a deck of cards handy for a game-on-the-go, the Card Caddy is for you.
You can follow along my journey at my blog.

>Reviews
Radho Runthrough:
The Kwarenteen:
Young Breezy:
The Dice Odyssey:
Auto Accessories Garage: "Car Camping Gear"

Whisky + Sunshine: "Best Camping Gear for Fall"
The Family Gamers: "we highly recommend it to anyone looking for a better way to store cards for playing on the go"
Play Board Games: "It is great for travelling or just keeping a game in your backpack."
The Boardgame Mechanics: "This is one of the more legit accessories I have used– very nice!"
ATGN: " the Card Caddy is going to be a fantastic way to protect, transport and store your games"
Expand Your Game: "the Card Caddy is still extremely useful for me"
iDigitalTimes: "Card Caddy: The 'MTG' Player's New Best Friend"
BoingBoing: "A cool invention"
Fupping: "Gift Ideas for your Friend Who is Always Traveling"
Spoonful of Comfort: "Unique Get Well Gift Ideas"
Hacked Tabletop: "keep the Card Caddy closed shut, protecting your cards."
Beards and Boardgames: "Card Caddy Youtube Review"
Polyhedron Collider: ". . .the Card Caddy is going to be your friend"
Boardgaming for the Win: This is great to keep your deck of cards protected & with one side converting to a discard pile holder
Board Game Breakfast (21:39): Tom Vasel: "I have to say, I will easily use this…"

Cloak & Meeple: Spotlight: Card Caddy
Table by Teresa: Organization that Won't Kill Your Wallet
NonPerfectParenting: Card Caddy is Perfect for Players on the Go
GameNite Magazine: "Nice unit for gamers who like to travel . . ."

Geek Test: "they serve as much to tidy up as to play"
Sweepstakes Diva: "This is an awesome little device…"
Press Releases:
Card Caddy now available for sale (Nov 2015)

Kickstarter Campaign for the Card Caddy Double Decker (Jan 2016)

What is the Card Caddy Commercial:
Hi Res Images: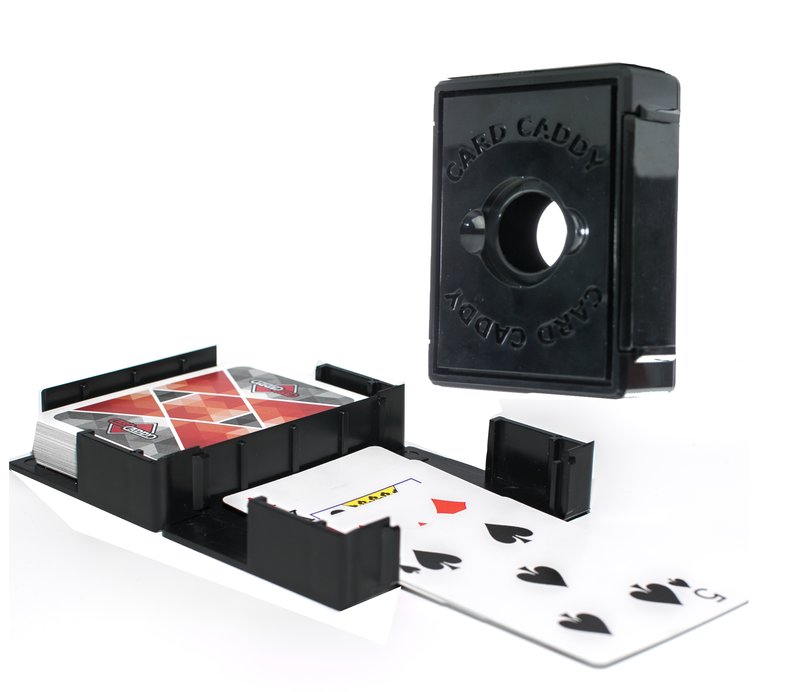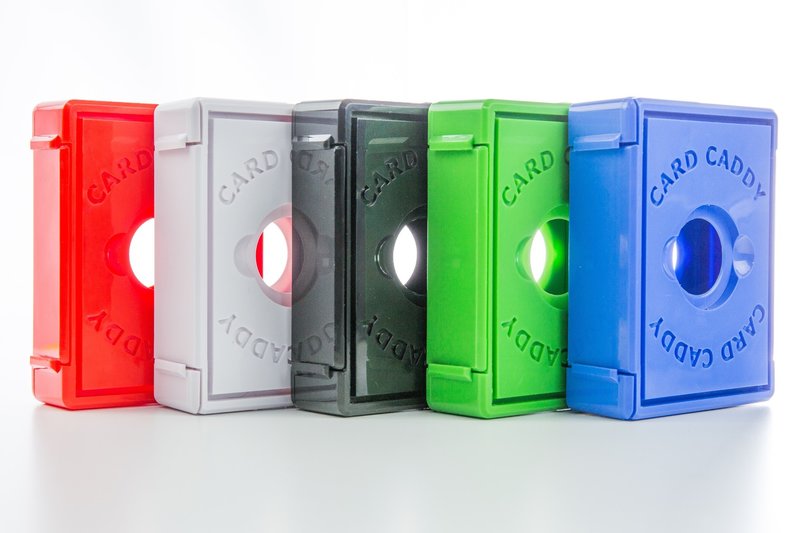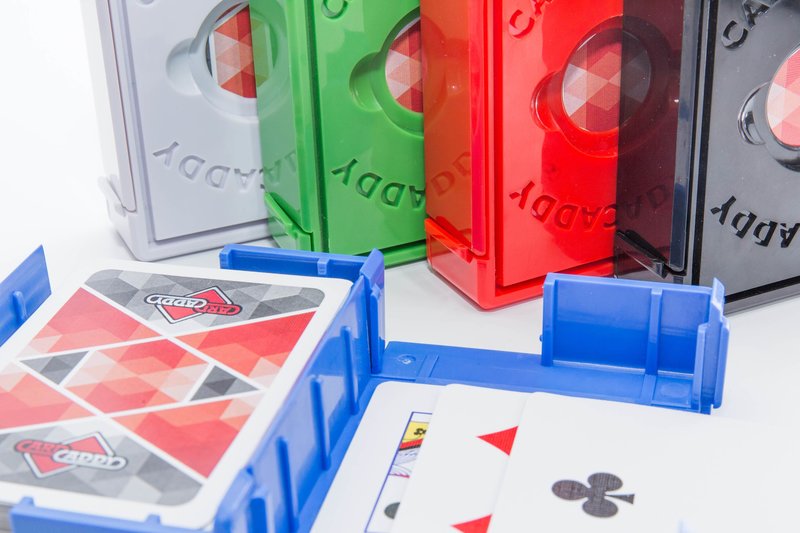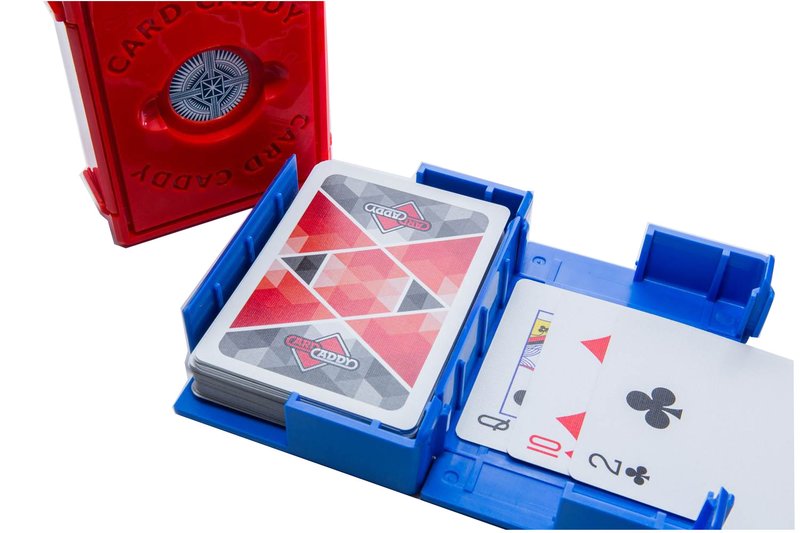 Our Triple Decker is LIVE on Kickstarter through October 18!
It will hold 100+ SLEEVED cards (perfect for MTG and other collectible card games) or 3+ decks of standard cards. You can also snap in a divider and inserts which will let you store mini-cards and dice, tokens and chips!